VOYAGE 360º is the title of the Fall-Winter 17/18 collection by Esther Noriega that recreates the bubbly effervescence of champagne reflected in models that revive the 80's lifestyles, colorful, excessive and exuberant. A collection compiled by the designer from Valladolid during a round trip to the French region of Champagne, a celebration of fashion, partying and fun. A pleasant experience that awakens the senses through colors and textures, delicate and powerful nuances, high and pulsating tones and irresistible models that brighten autumn days and shine on the magical winter nights. Next season girls just want to have fun, with fashion and with life.
VOYAGE 360º is the fifth fashion show by the designer from Valladolid, Esther Noriega, at MERCEDES-BENZ FASHION WEEK MADRID. Esther Noriega summarizes the concepts of prêt-à-couture fashion, an atelier feel, locally sustainable fashion, customizable models and a degree of exclusivity.
VOYAGE 360º is color, luxury, and celebration. Yellow, neon and magenta tones, mint and emerald, golden Sanger, black and night blue, intense, radiant colors. Pailletes degradée, velvet, synthetic leather, geometric embroidery, mesh embroidered with diamond shapes, velvet, elastic mikado, crepe, the luxury of exclusive, enriched and elaborated fabrics. Metal zipper pipping, crystals and studded logos, patches and motifs specially embroidered for the collection, represent the celebration of fashion.
VOYAGE 360º proposes for the day after the night oversize outerwear, colorful bombers and jackets with a single button and marked shoulders. Mini asymmetrical skirts, furry vests and sporty pants with the pockets inside out, edgy styles that play in combination. For the nights devoted to party, to disco, there are couture models designed for fun, designed to dance in moonlight and to love by candlelight, where the seductive, insinuating, translucent transparencies prevail. An explosion, a bottle of champagne that pops open, a crackling sound, like the agitation and the creaking of silk, bubbles that whisper, glowing, crystalline clarity, golden fragments, we toast for fashion, for life, Bon VOYAGE 360º.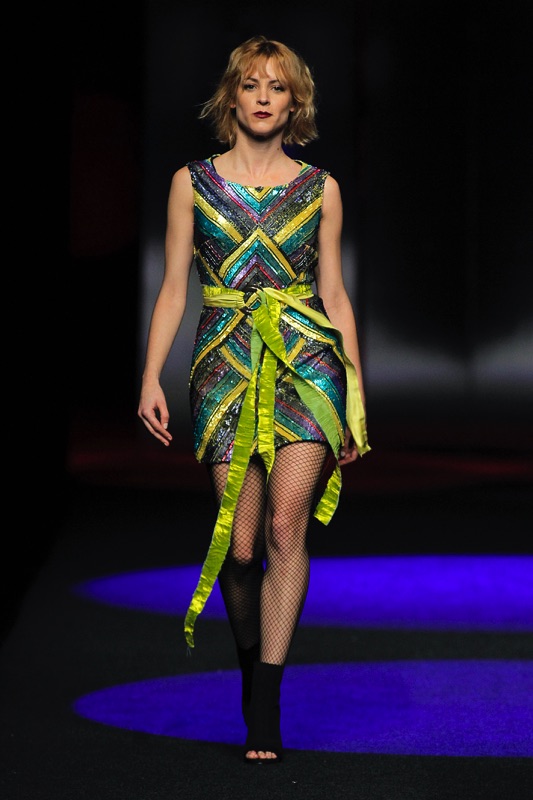 Photos collection Voyage 360
¿TE INTERESA UN VESTIDO DE ESTA COLECCIÓN?
Solicita información sobre los vestidos de la colección
In this video you can see a summary of what is behind the scenes in the backstage and all the work of a great team.
Other collections of Esther Noriega