SANGER COLLECTION
This collection is inspired by the sunsets that can be seen from Peñafiel Castle (Valladolid), where the light effects of the sun's rays recall subtle shades of champagne, the same colors employed in the collection for next season: SANGER COLLECTION. Sunsets and champagne are the perfect tandem for a delicate, subtle, elegant and sensual collection, one created through a handcrafted process based on exquisite attention to detail.
VIVID COLORS: The "Sanger Collection" boasts all the colors of the sunset, embellishing a collection that is full of delicate and pulsating shades such as yellow, gold, pink in different tones, mint green, coral, magenta, red, purple and dark blue.
The day-wear ideas from the "Sanger Collection" consist of short dresses and crêpe jumpsuits in soft tones such as yellow, mint green and pink; mini dresses in embroidered tulle and sequins, dresses in guipure and satin … garments that envelop and enrich the feminine silhouette and leave a trail of fabric when the garment is in movement.
"I love sunsets … when I look for inspiration I like to lose myself in time and go to see sunsets. I have several favorite places in Valladolid, and one of them is the top of the hill where the iconic Peñafiel Castle is located. From there you can see some truly breath-taking sunsets. A special light is created and the views are wonderful: the entire horizon is full of vineyards.
Watching the sunset, I lose myself in its colors … magical tones that envelop me … the golden rays of sun immerse me in Sanger champagne … in its smell … in its flavor … and I realize that I already have the perfect inspiration for a collection of cocktail dresses, party dresses and evening-wear: SANGER. And the colors of the sunset that I can see from Peñafiel Castle make this combination of champagne and sunsets, one of the ideas for my collection for the upcoming Spring-Summer Season 2019. Dresses for unforgettable days, days where there is always something to celebrate and something to toast. Because SANGER is much more than just champagne: it is pure elegance. The pairing of the countryside surrounding Peñafiel Castle (a veritable tourist gem of Valladolid) with the "SANGER" vineyards, the colors, the sunlight and the backlighting of the vineyards, inspired this collection full of touches of light, subtle hues and summer flavors".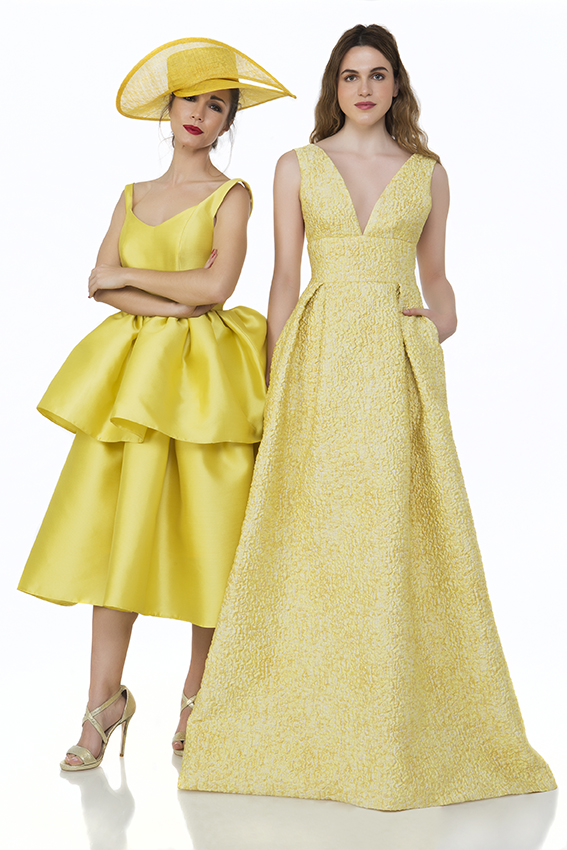 Te interesa alguno de los vestidos de esta colección?
Si estás interesada en alguno de los vestidos de esta colección puedes contactar con nosotros a través de este mail y te daremos la información que necesites.
info@esthernoriega.es
Video Sanger Collection Barcelona Bridal Fashion Week