Legend is a tribute to the warrior woman. Women, icons, whose courage, struggles, achievements and strength are a reference, a source of inspiration. Women whose passage through the city of Valladolid has left a historical trace in the collective memory: Isabella of Castille, Catherine of Lancaster, Anne of Austria, Juana la Loca, Maria Zuñiga, Maria de Molina, Eylo Ansúrez.
Legend, a collection inspired by women who create their own legend forged in wars and struggles and reposed in a hedonistic environment, women who conquer the final victory.
May the battle, war and internal struggle begin. Dresses, short, long, winged tops, the back is the new cleavage, capes, capri pants, the sobriety of black is assumed in textures. Leather trellises and crepe, wool voile, a lattice of fabrics favours movement in a long, flowing silhouette. Red brings passion, a dominant power. Chainmail reveals a certain medieval inspiration that creates an armour protecting women.
The hedonistic repose, the relief and rest of the warrior woman. Models that emphasize the waist, flagged capes. Long trousers, fluid, are back on the show, the dress toys with necklines and the back is discovered. Lead blue, silver paillettes, metallic graphite, mineral tones. Malleable fabrics create volumes and grip the woman's waist. A display of relaxed femininity supports new codes regarding elegance.
The conquered victory, a moment of glory. Evening dresses reflect light, radiant. Metallic pink quartz, black, baroque styles, medieval details, brocades and gold. Enriched fabrics, mesh lace, lurex taffeta, chiffon, embroidery. Models wrapped with short jackets or veils enhance the neckline, cover the arms and accentuate the shoulders, a natural volume. A golden trail marks the path that follows the legend of the woman.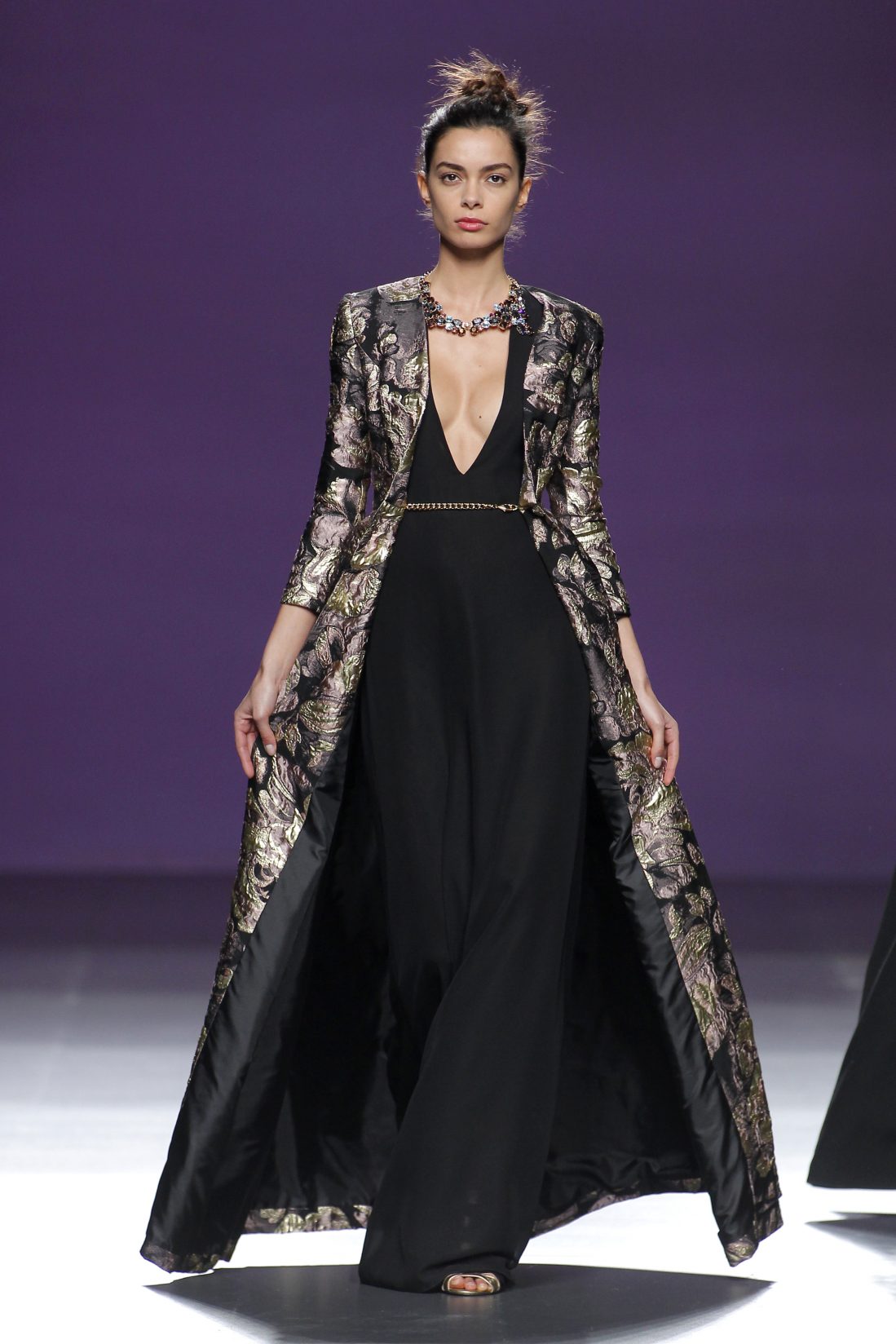 Fotos de la Colección Legend
¿TE INTERESA UN VESTIDO DE ESTA COLECCIÓN?
Solicita información sobre los vestidos de la colección
Other collections of Esther Noriega