Esther Noriega discovered in a chance encounter the Japanese word Kaizen that represents a methodology where change, evolving with the aim of improving, is vital essence and creative drive. Fully complying with the meaning, the designer titled her 2017 Spring Summer Collection, Kaizen, presented in MERCEDES-BENZ FASHION WEEK MADRID, the fourth fashion show in the Madrid runway by the designer from Valladolid.
The cherry blossom, Sakura, represents ephemeral beauty, innocence and femininity and is latent in the entire collection. A path bordered by cherry blossom trees surrounding a pond of water lilies, the petals fall and humming birds soar providing subtle movement to the staging. An enveloping OST composed of oriental instruments with funky touches and natural sounds such as birds singing or flowing water. Kaizen by Esther Noriega is a fashion collection that captures a change of direction, change for the better, a new beginning and a positive mood. Kaizen is inspired by a woman knowledgeable that her strength resides in her sensitivity, a woman who does not hide her feminine side because it provides her with security, a woman who finds her inner balance in a personal evolution, the life cycle is the cycle of fashion, Kaizen, Sakura.
The fashion proposals for Spring Summer 2017 by the designer from Valladolid, Esther Noriega, focus on enhanced female roles. Translucent dresses and tunics in crepe and chiffon wrap and enrich the feminine silhouette, and leave a trail with textile garments in motion. Flared évasée skirts and skirts in silk Mikado that provides volume and form. Spring chiffon blouses, in twill or cotton batiste, shirts short in front and long behind. Palazzo pants and wide leg culottes, shorts, long jumpsuits in cotton batiste and short jumpsuits in twill, long sleeveless vests, short and long dresses in embroidered tulle.
Colours of floral and oriental inspiration embellish the fashion collection. Orchid tones: lilac and purple, cherry blossom: pink and white, a wide range of botanical green: Gachalá, forest, pond, leaf, and the fetish tone of the designer, golden Sanger. Solid, luminous tones, floral prints, stripes and lines, and delicate embroidery with motifs of branches, water lilies and flower patterns, summarize the fashion trends of the Kaizen Collection. A collection that recreates an atelier finishing, an artisan feel in the manufacture and which dialogues in a contemporary aesthetic discourse which is identified by a woman who resides in reality and searches in fashion for an evolution of her personality, always for the best.  Spring marks a time of rebirth where new ideas surge, new concepts, new beginnings, where fashion is the engine of change for the better, fashion Kaizen, Sakura.
.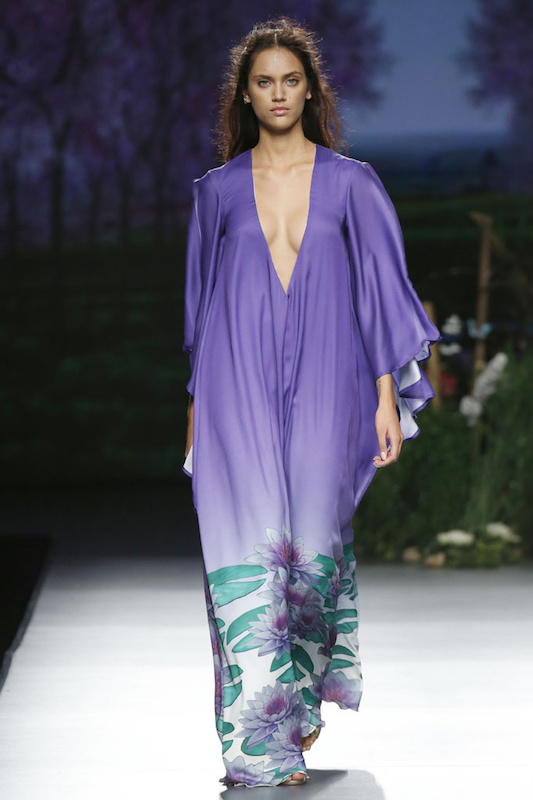 Photos  Kaizen Collection
¿TE INTERESA UN VESTIDO DE ESTA COLECCIÓN?
Solicita información sobre los vestidos de la colección
Other collections of Esther Noriega